San Diego Beach Wedding Ceremony
You want a beautiful wedding service or vow renewal on the beach, without the stress and anxiety that can come with planning one.
Effortless
If you have 25 or fewer guests, you can have your entire wedding service booked in mere minutes.
Stress-Free
We take care of all the details: officiant, live music, photography, and flowers.
Stunning
Say "I do" at one of the most beautiful beach locations on the globe, minutes from downtown San Diego.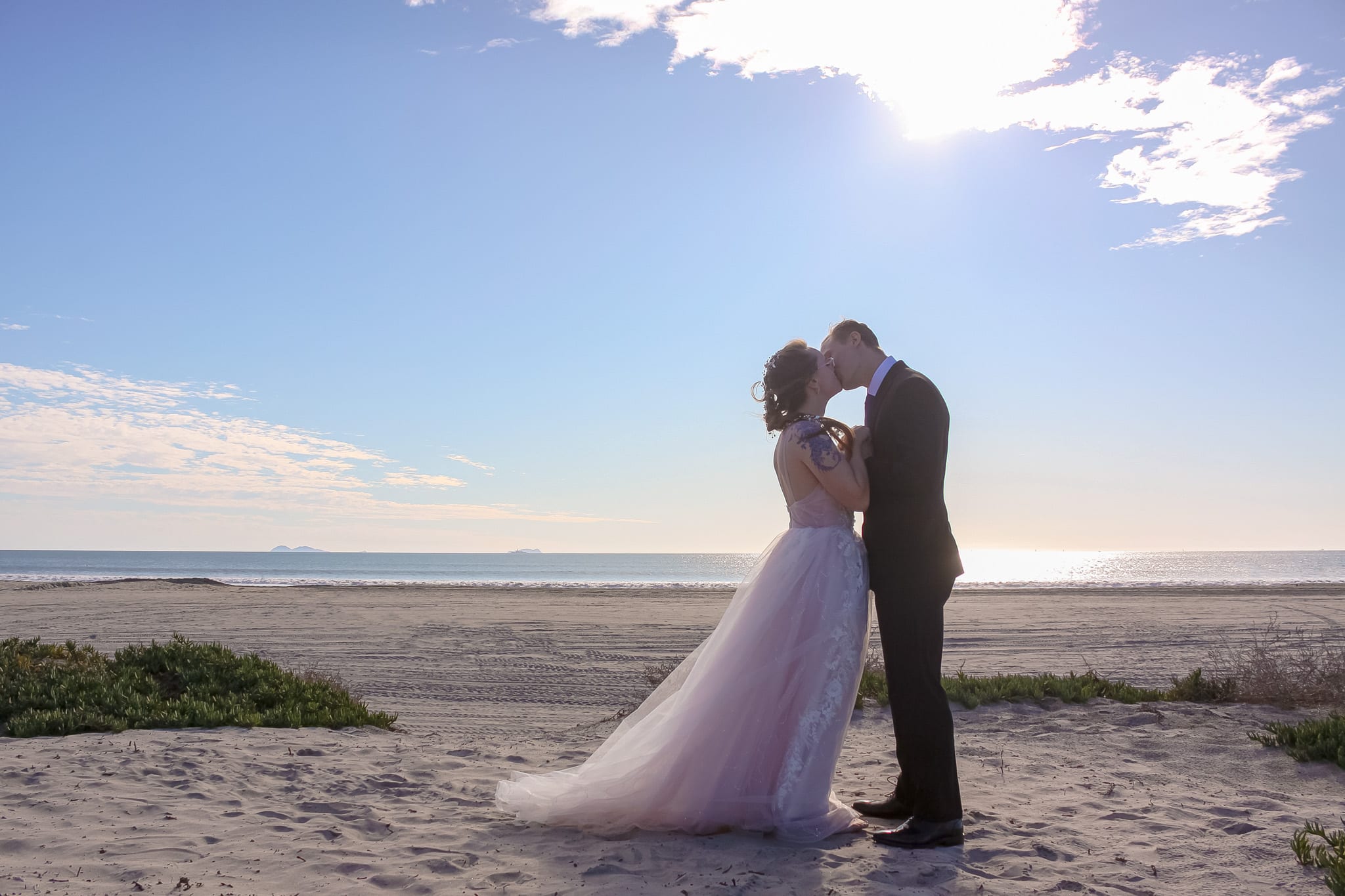 Included in all packages:
– Up to ½ hour of phone or video conferencing consultation.
– Unlimited email consultation.
-Legal, experienced Officiant service.  I will deliver a thoughtful, modern wedding ceremony script which you will be allowed to edit and approve. You are also welcome to supply your own script. I will sign and return your marriage certificate to the county office if you do desire, but you must provide the certificate, more info on that below. I am a credentialed Minister, ordained in 2010, and am legally permitted to perform weddings in the State of California.
Additional Services:
-Live Music.  You get 2 guaranteed live guitar or ukulele requests, one which I will play for the processional/bride walk, and one which I will play immediately following the ceremony. Your two guaranteed requests do not have to be part of my repertoire, I will learn and arrange them just for your wedding if you so desire. You can also make other live music requests, I have an extensive repertoire.
-Photography.  Our experienced pro photographers will document you, your friends, and family at your event. All of the photos on this page and most on this website are from our crew. You will receive your photos within 10 business days of your event. You will receive professional quality digital files and a release so you can print and share as you wish.  
-Flowers.  Clients receive one custom bouquet, or 2 handmade leis. Our florist does amazing work with both fresh and silk bouquets, and fresh handmade leis. Arrangements are made to order, based on your design and color input.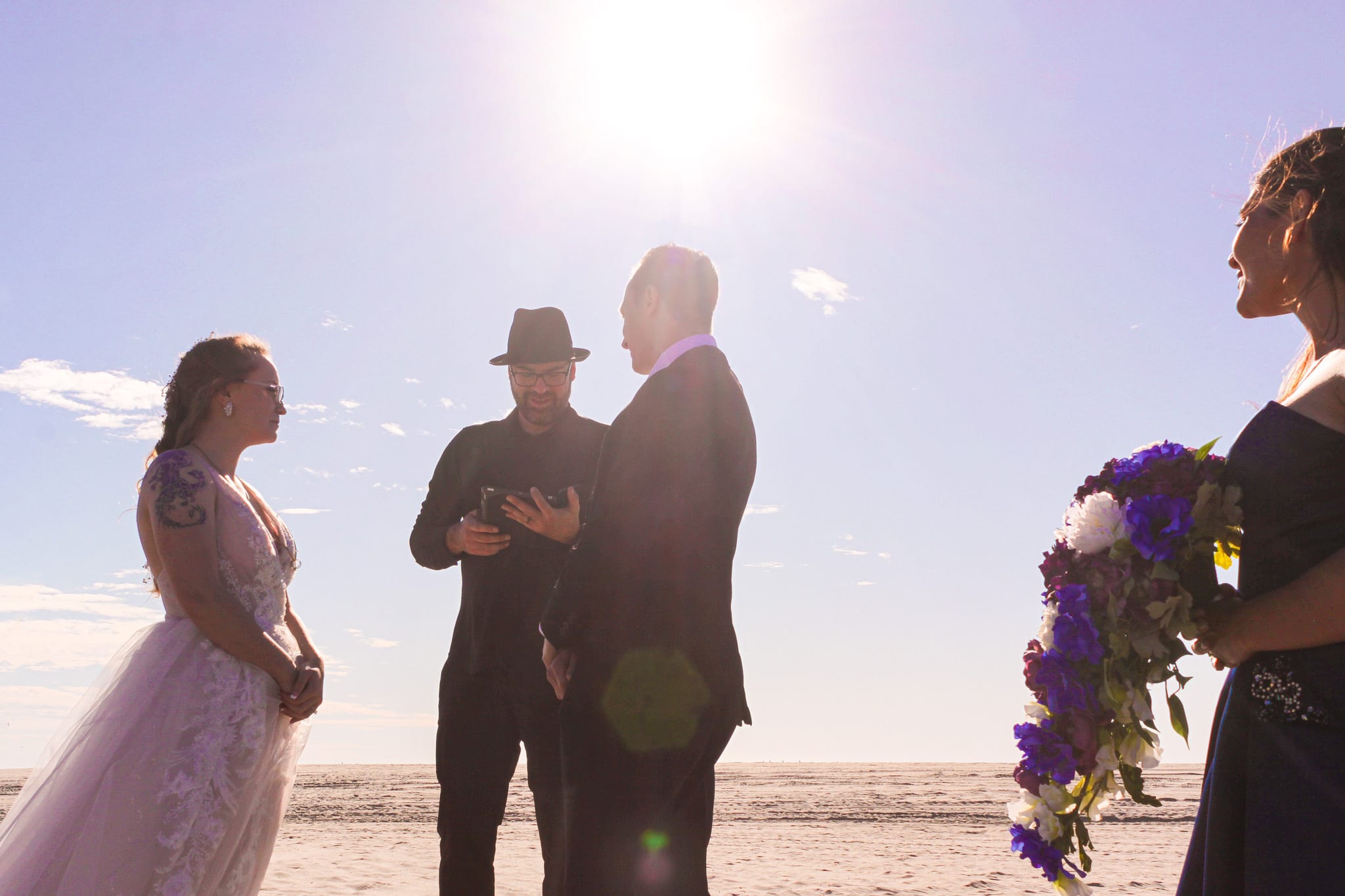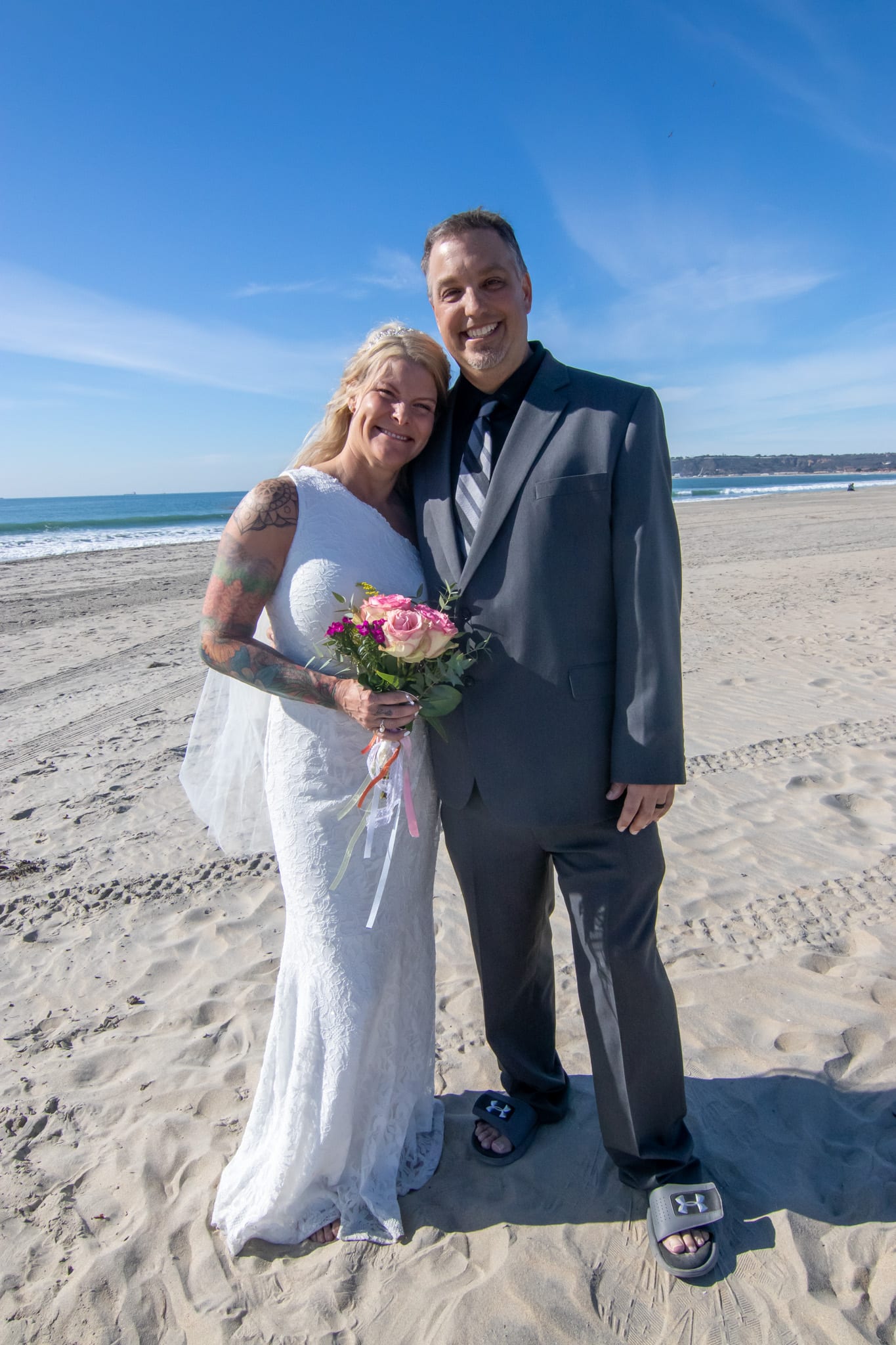 Where we do it:
Weddings are held at the incredibly beautiful North, Central, or South Beach in Coronado, CA, you get to pick which beach.
For a true Instant Beach Wedding ™ experience, we can not put up an arch or rented chairs (beach chairs are ok!), use amplified music, or have more than 25 people present including all vendors. We will not bend these rules, as we are very fortunate that the City of Coronado allows permit-free weddings at all, and we want to respect and keep this tradition alive. We can not guarantee a specific area will be available, or reserve a specific location, but it's a large, beautiful beach with plenty of space for a small wedding any day of the week.
What do you need to provide?
– A few minutes to book your wedding!
– A marriage certificate if you are planning on having me sign it. You must make an appointment with the San Diego County office here.
What if something goes wrong?
Refunds are offered with no questions asked for 7 calendar days after purchase.  After that, all sales are final. Client-requested reschedules will be accommodated within 30 days of purchase if our schedule allows.
If it rains… your wedding just became even more memorable! Bring umbrellas!
In case of severe, dangerous weather, we will perform at the venue of your choosing (schedule permitting) or issue a refund.
I have never missed an event in over 20 years of professional performance, but in the event Instant Beach Wedding cancels, you would be refunded immediately, and we would do everything within our power to place you with another vendor. 
What if you want more services?
If you will be having more than 23 guests, or want a weekend evening event, please see my full service wedding website here.
Meet your officiant:
I am a professional wedding musician, DJ, and licensed wedding officiant with   over 20 years experience in the wedding industry.
 Instant Beach Wedding ™ and Instant Wedding ™ are my easy to book wedding   solutions for those looking for a no hassle, beautiful wedding experience in   Coronado, immediately south of San Diego, CA.